Need Help? support@performancegolf.com
SECURE CHECKOUT
CONTACT INFORMATION
BILLING ADDRESS
Apartment, suite, etc. (optional)
PAYMENT
ONE-TIME SPECIAL OFFER:
Secret Technique Revealed to Hit Your Irons
Flush…Every. Single. Time.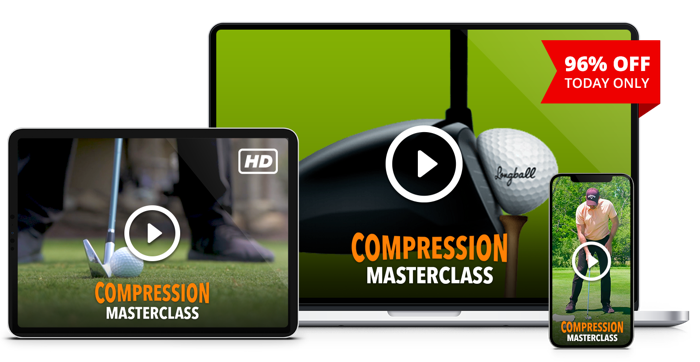 Once you fix your slice with the 1-Shot Slice Fix you are going to want to learn how to consistently strike your irons flush.
You know the sound and that feeling that rushes up your arms after you hit an iron shot perfectly solid.
Most golfers go a LIFETIME standing over irons fearing a fat or thin shot. With this new video series solid contact will become like breathing for you.
The 1-Shot Slice Fix will help you easily fix your slice and gain 30 yards after 5 minutes on the range. With this new series I'll show you exactly what to do with your next 5 minutes and second bucket of balls to strike your irons pure.
It's all revealed inside our new video series, Compression Masterclass... and today ONLY...
I'm giving you access for a crazy 96% discount.
Up until today clients paid $2,000 to attend a golf school to learn these solid contact secrets. But you're getting it today for just $67 !
The Compression Masterclass is the perfect complement to the 1-Shot Slice Fix to take your game to the next level.
And if you don't feel like you're puring all your iron shots... and that your ball striking is changed forever... I'll fully refund your $67 investment.
Check the box below to make sure you don't miss out on exactly what to do with your second bucket of balls after you implement the 1-Shot Slice Fix to pure your irons!
(This offer is not available at ANY other time or place). Our most successful members choose this upgrade.
You're Protected By Our 365-Day Money-Back Guarantee!
*By checking the box above, you agree to the
Terms
and
Privacy Policy
and to receive text notifications on 39587 from Performance Golf to the mobile number provided. Msg freq will vary. Consent is not a condition of the purchase of goods or services. Message and data rates may apply. Reply STOP to cancel. Reply HELP for help.

- Instant Online Access -
1 Shot Slice Fix Training Videos
Slice Fix Live Stream Q&A with Hank Haney (FREE)
​365-Day 100% Money-Back Guarantee
---
365-Day Money-Back Guarantee & Unconditional Refund Policy Trusted By 250,000 Golfers Around the World
Put this training to the test completely risk-free, and watch how it improves your golf game. If at any time within the next 365 days, you decide you're not fully satisfied, just send us an email and you'll receive a 100% full and prompt refund.